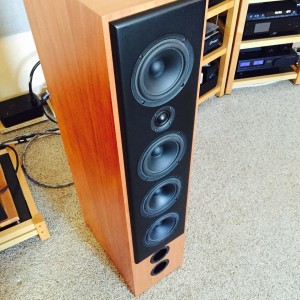 Vayu/fs Speakers
So what do I hear from his loudspeakers? Well they do play way above their $6950 price in that the dynamics, slam, and bass extension is scary good. I mean, crap. These smallish guys will scare the crap out of you … unlike Steve who is sweet and yet not scary but he is … well intense. Like his speakers.
See the Vayu/fs will play scary loud and go scary deep without a stumble or hiccup. These speakers go places many other speakers at several times their price only dream about. I tossed on Jesus and Mary Chain's latest recording Psychocandy Live at Barrowlands and wham. The kick drum at the beginning of "Just Like Honey" will punch you in the chest while sending you to the back wall in tears. Tears for fears. It will hit you like a real kick drum live through say… a VUE Audiotechnik Line Array at 110dB at a concert… same feel, same experience. Crap. Damn, where is the volume before something gives in? No worries. The Vayu/fs will take you there. No sweat. No fear. Slam. Bam. Punch. Scary.
Deep and powerful. Extended and clean. No hint of distress. It is there. Insane how low the Vayu/fs will play. Insane how they do it so cleanly and yet… with such grace and articulation. Fast. Start and stop. Weird as the woofers are moving and shaking all about like there's no tomorrow. These little drivers can really pump. They play loose, but they do it with style. Clarity and presence… though perhaps more laidback than my more forward Reimers.